Linen Rentals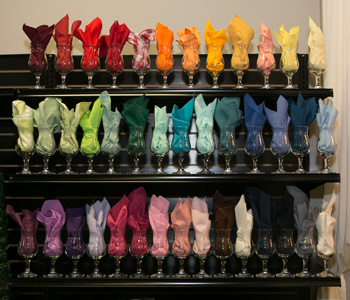 Linens lay the foundation for decor at your party or event. At Parties to Go, we have linen rentals in just about every color, pattern, and texture you can think of.
Overwhelmed? Don't know where to start? That's what we like to hear! We can help you find the PERFECT combination of colors and patterns. Together, we will experiment until it is just right. We live for this stuff.
Don't forget about our ever-popular sequin linens! These linens come in striking colors like silver, gold, and rose gold, and give your event a glamorous feel. These are our most popular linen rentals for parties lately!
Check out the color selections below and be sure to ask if you don't see what you need. Our linens come in various sizes, shapes, textures, and materials and most have matching cloth napkins. Don't see what you're looking for? We can get anything you need, give us a call and we can help find what you're searching for. 
Black
Blue (variety)
Blue/White
Bright Yellow
Brown
(chocolate)
Burgundy
Burlap
Celadon Green
Forest Green
Gray
Green (variety)
Hot Pink
Ice Blue
Ivory
Kelly Green
Khaki
Kiwi
Lavender

Lime

Magenta

Maize
Mango
Mint
Mint Green
Navy Blue
Orange
Pastel Blue
Pastel Pink
Pastel Yellow
Peach
Periwinkle
Pewter
Pink (variety)
Plum
Purple (variety)
Purple

Raspberry

Red

Red (Dark)
Red/White
Royal Blue
Sage
School Bus Yellow
Silver
Sparkle/Sequin
Teal
Terra Cotta
Turquoise
Violet
White
Yellow (variety)
And so many more!
"Shannon at Parties to Go was a joy to work with! I was planning my wedding all the way from San Diego, not having the ability to go into the shop and view linens or
chair/table options was going to be a hassle (I thought). Shannon really helped me out and made it so easy to select the linens, sending me pictures of chairs and table options as well.
She was responsive and really made me feel at ease knowing that the look I was going for would be achieved.
The day before the wedding when the tables, chairs and linens were delivered to our venue, I couldn't have been more excited. Everything we selected was PERFECT!" – Alissa